Customer
The Customer is a company providing video streaming services for network operators, content owners as well as telecommunications, broadcasting and media companies in the US and Europe. Among the company's clients there are Fox Entertainment Group, MTV, Discovery Communications, BBC, T-Mobile, Orange and many more.
Challenge
In 2010, the Customer helped large telcos make their live TV streaming services available across multiple mobile devices. Given the rising interest in the company's flagship products among the large industry players, the Customer decided to streamline time-to-market by tapping into a pioneering technology – hybrid app development. The company chose ScienceSoft as a mobile application development company to jump-start new projects with.
Cooperation
ScienceSoft augmented the Customer's development group with 1 iOS, 1 Android and 2 JavaScript Developers working under a T&M arrangement. In the course of the 3 subsequent years, the team powered 6 broadcasting companies with customizable multi-screen apps that allowed watching online streams on smartphones, tablets, TV, gaming consoles and in browsers. Following the products' success in the market, ScienceSoft scaled up its team.
The companies reached a milestone when set out to create their own framework based on Backbone.js, which would open up striking opportunities to lessen development costs and accelerate the delivery of customized solutions. Exploiting the agility of HTML5 to the fullest, the new architecture made it easy to regularly update, implement features and manage UI/UX via the cloud without bothering to re-publish the app to the store. Moreover, it allowed new functionality like SVOD (subscription video on demand) and movie rental. The framework has been developed for 2.5 years and now is core to all of the Customer's products.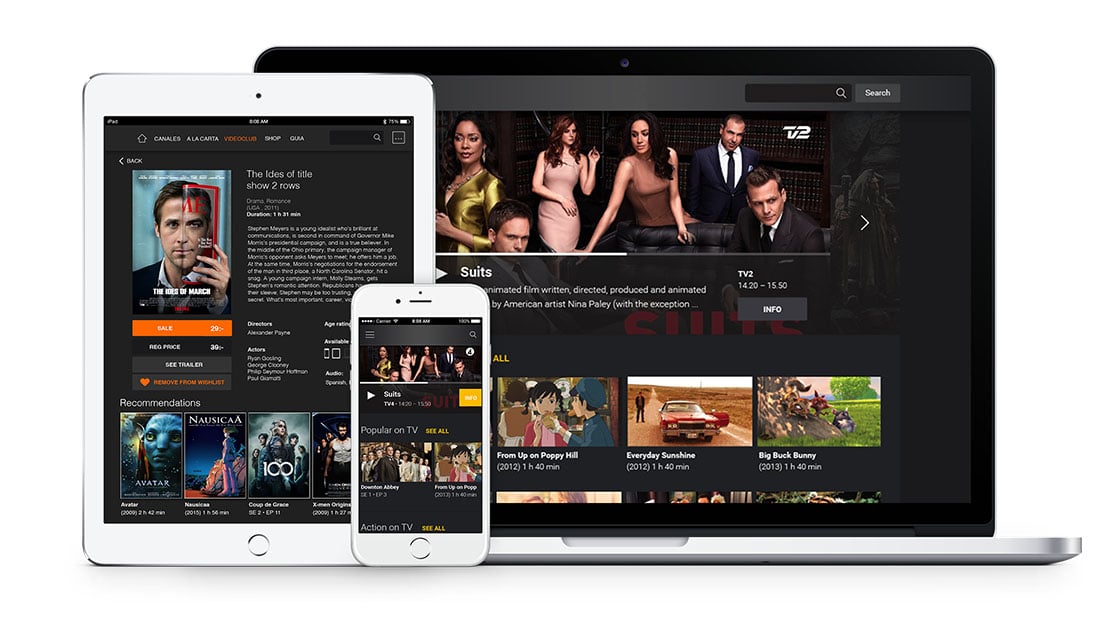 Currently, ScienceSoft's 1 Android, 2 iOS and 6 JavaScript Developers go on to improve the existing solutions and extend the framework.
Results
Within 5.5 years of partnership, ScienceSoft team of 9 developers has helped the Customer to become one of the leading TV apps providers that evolves briskly along with the growing diversity and complexity of devices. Together with ScienceSoft, the Customer plans to improve their star products and increase the company's visibility in the console market.